This is a super quick Five Question Friday as I am tired and need a shower before heading to bed. Feel free to join in!!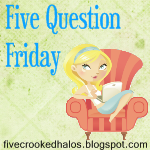 1. What is your favorite summer time activity?
Eating grilled food!! I also just like sitting outside and looking at the fireflies.
2. Do you have one laundry soap you stick to, or do you buy whatever's on sale?
We use Purex (I think that is what it is called!).
3. What is your favorite dinner to make in the summer?
Grilled steak, baked potatoes, and corn on the cob with some light summery dessert.
4. Do you have any talents?
Yes, I sing, I knit, I sew, I am pretty creative, I write, and I can make lots of different voices while reading stories to the kids. Oh, and I can usually remember the majority of lyrics to songs after hearing them only once. My dad once told me if I applied that to studying, I would probably graduate from Harvard. I didn't, so I didn't. :)
5. If you could instantly be an expert in something, what would it be? Why?
Physical training. Then I would hopefully be better at keeping myself motivated in the gym and out of the kitchen!
Have a great weekend!!
With Love!