TGIF huh!??! I sure mean that this week. It has been pretty rough, but I am feeling a whole lot better and am so happy. My wonderful Mom came up and hung out with me last night and today so that has been really nice. It was a lot of fun. Thanks mom!!
I usually do 5 Question Friday over at
My Little Life
, but she has a super sick kiddo so I don't think putting together some questions was top on her priority list, as it shouldn't be. So, instead I found Fill In The Blank Friday at
The Little Things We Do
. I hope you enjoy it as much. Feel free do to your own and then go link up! Have a great weekend!!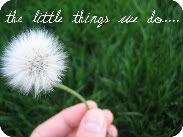 1. My most prized possession is
a glass vase that my cousin Greg gave to us for our wedding. He had it custom blown just for us. It is beautiful and means so much to me. I have many things in my house that I treasure and other than my family and pictures and stuff, this would be one of the first things I would grab in a fire.
2. If I could be one age for the rest of my life
, I think I would pick right now. I really like my early 30's. I am comfortable for the most part. I don't have the craziness of college or the newborn babies I had in my late 20's. I like the 30's. I'll stay here. Thank you!
3. The best way to spend a weekend
is with my family, football, pretty weather, and then some knitting time built in.
4
. My outlook on life is
that it doesn't hurt to smile at someone. You never know who's day you just might make a million times better if you just smile at them. This world would be SO much better if we were just kinder to each other.
5. If you want to annoy me,
tell me I do not have a job and that I don't work. I might not talk to you again.
6. I am completely defenseless when it comes to
pretty yarn and chocolate. I have to be very disciplined around either! That said, I did buy some yarn today. But, I had a gift certificate for Hobby Lobby from my beautiful cousin Ashley. That's like free money, right? Right?!?
7. When dressing for the day
be comfortable. Even if you are dressing up, at least be comfortable. And if you aren't really sure if an outfit works, throw on some hot shoes. No one will care about the outfit!!
With Love!