Hello Friday!
It has been a wonderful week. I turned 31 yesterday and had the best birthday! I had a great lunch with my family (including my parents) and got some great shoes and a little quiet time. It was a wonderful day!!
It is time for the Five Question Friday over at My Little Life. Read my answers, then go do your own. Make sure you link up!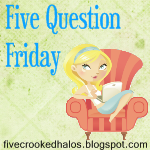 1. Have you ever visited another country?
Yes. My hubby and I went to Jamaica for our honeymoon and I have also briefly been to Canada.
2. Where is the strangest place you have ever been?
Los Angeles!
3. What is your favorite season?
Fall: Cool weather, hats, and football...doesn't get much better!
4. What one song will always cheer you up?
Me & Bobby McGee By Kris Kristofferson (SP?) sung by the one and only Janis Joplin!
5. What Disney character do you resemble most?
I have NO idea. Wow...that is tough. I'm going to say Nemo's Daddy (I can't remember his name!). I would go anywhere for my kiddos!
Have a great day!
With Love,
Theresa