I have been participating in this meme over at
MannLand5
. Check out my answers and then go check out Keely's. Then, go ahead, do them on your own blog. Make sure you let me know about it! :)
Things today that have made me feel...
1. HAPPY...having a great cook-out lunch at my hubby's work. It was with a bunch of contractors, but still a lot of fun!
2. DELIGHTED...to have M's eyes still be clear this morning. Seriously, it is so great to see his pretty eyes...did you know they were blue? Huh. Weird.
3. GRATEFUL...to have family and friends that I love so much, that love me and support me. You know who you are.
4. TOTALLY STOKED...that I got to watch Jimmy Kimmel's Twilight: Total Eclipse of the Heart special today after DVR'ing it last night. I was afraid the storm would interfere with the signal, it only did a little at the end so I got to watch most of it. I can't wait for Eclipse to come out...I am such a nerd!
5. THANKFUL...that my friend Jen is doing better and will hopefully come home from the hospital soon!
Oh, and how about a little Fiber Therapy today?
I just finished these up last night...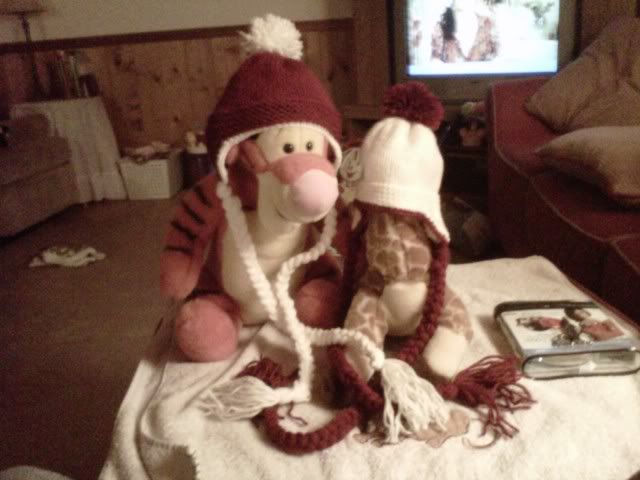 They are a surprise for someone...SSHHHHHH!!!! Tigger is DIGGIN' his new hat...and Gary the giraffe? Well, I promise he is there, I didn't behead him!
I finally got the ends woven in on this shawl last night too. I have to block it tonight so that I can wear it Saturday night to a wedding.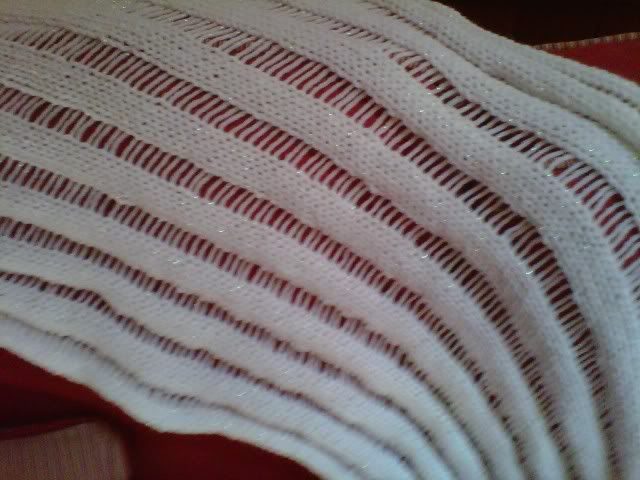 This is the start of the log cabin blanket for J's speech therapist. They are Chicago Bears fans and are NOT finding out the baby's sex, so I am going with Blue, Orange, and White. I have 9 of these to do and this one isn't finished...Lord help me!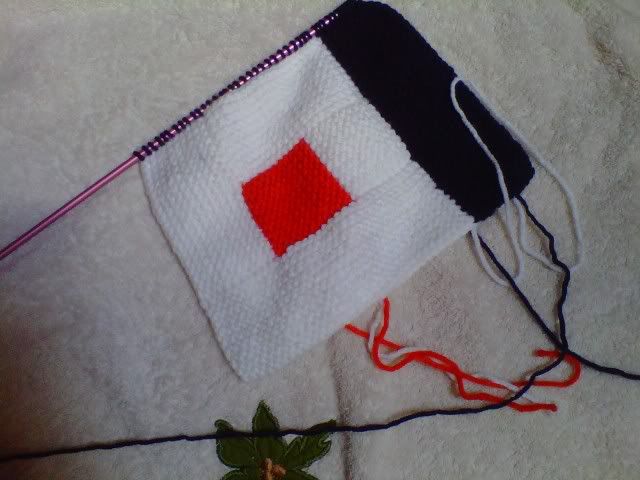 This is my mom's scarf. Want to know how much I love her? Well, around 8 feet of 1x1 ribbing should tell you! For you non-knitters, this is a LOT of back and forth and back and forth. It guess it is better than 2x2 rib though, that you actually have to pay attention too!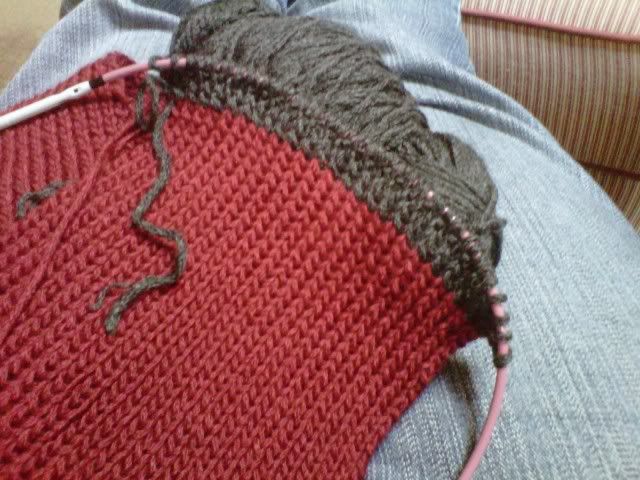 Sorry for the crappy pictures...for some reason, my computer is not recognizing my actual camera so I am taking pics with my phone. If I can get the real camera to work, I'll take better pics!
Have a great day!
With Love,
Theresa