Wow! Is it really Friday? As crazy as this week has been I have to admit that I can't believe it is Friday already! Some part of me find it a little sad that this SAHM looks forward to Fridays so much. I mean, it isn't like my life changes at all on the weekends. I still have to get up with the kids since E runs both Saturday and Sunday morning. I still do all my mommy duties on the weekends. But, I look forward to Fridays so much. Part of it is that we do our grocery shopping on Friday nights. Many people find this very odd, I know. When E and I were dating, we grocery shopped together, we continued this after we were married. When L, then J, then M came along, we just continued all going together (granted, we have had to add a second cart to our trip!). Friday nights usually aren't quite as busy so if the kids throw a fit then I don't feel like they are disturbing that many people. And it has really just become part of our routine. The kids know that Friday nights are for groceries. Now, if we have something else come up, we are flexible, but I have to admit it completely throws off my weekend if we have to go Saturday morning!
Boy, that was exciting information about my family wasn't it? :)
So, what else has been going on? I don't have a whole lot to report, we've just been busy. Last week we went to my parents' house for a couple of days and had a great time, but were ready to get home. It is always fun to visit with Grandma and Grandpa (aka Pappy). L got to ride a horse and all 3 played in the baby pool.
On the weightloss front, I lost 4 pounds last week, then this week I GAINED 2 pounds. I am giving up trying to figure it out!! Seriously, it is getting ridiculous! I am chalking it up to hormones and bigger muscles, but I really feel like I take 2 steps forward and 1 step back every other week. I know that it will all get off eventually if I keep working like I have been, I just have to keep having the faith in myself. One neat thing about this through, is I might be in the newspaper. One of the managers at my gym called me yesterday and asked if I would be interested in being in an article about working towards my weightloss goal! She said the newspaper asked for suggestions and she instantly thought of me since I have been working so hard and am having good (usually) success. I haven't heard from the writer yet, but still, pretty neat to be considered for it.
Books to be reviewed? You betcha!
I have finished 3 books since my last Book Worm review. Here is what I thought!
The Accidental Demon Slayer
&
The Dangerous Book For Demon Slayers
both by
Angie Fox
were both pretty entertaining. They are about an ordinary girl who finds out on her 30th birthday that she is in fact a Demon Slayer by birth and now that she is 30, she has duties to fulfill. And if she doesn't fulfill them then all of hell is going to be gunning for her. I had been eyeing these books in the library for a while and am glad that I was finally able to get them read. I enjoyed them. They didn't take a lot of thought and were pretty easy reads. I just checked out the newest in the series of 3 so far (sorry, I can't remember its name!). I will read it soon as soon as I get some others marked off!
The other book I finished was
Plum Pudding Murder
by Joanne Fluke (you can find her at
http://www.murdershebaked.com/
- isn't that the neatest website name?). I LOVE these murder mysteries. They are all about Hannah Swendsen who has a bad habit of finding dead bodies. She is a baker and owns a Cookie Store in Minnesota. Each book has a ton of recipes in them. They all sound so yummy. I think this Christmas I may try and check some out to make some new cookies for Christmas!! This book is great, as are all of hers. They are NOT difficult to read, don't take a lot of thinking (which is what I am looking for in a fiction book!) and are enjoyable. The only bad thing about these books...they make me hungry!!
I do have some knitting done, but do not have pictures of them so next week, I will make sure I indulge you all with some fiber therapy!
So, it is Friday. I am really enjoying these meme's about Getting to know you and other varieties. Today is from "My Little Life" at
http://www.fivecrookedhalos.blogspot.com/
(for some reason my link button is not working, hence giving you the addresses!). As always, read mine, go to her site to get the questions, write them on your blog and leave me a link so I can check yours out! If you don't have a blog, leave me your answers in the comments!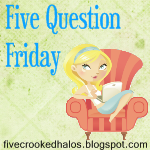 1. Did you have a favorite blanket or toy as a kid? If so, do you still have it? Yes, I did. I had a piggy blanket. This wasn't a blanket with pigs on it, it was a blanket in the shape of a pig. Unfortunately, I don't have it anymore, but I REALLY wish I did!
2. Do you dream in color? Yes, I think so.
3. How tall are you? Do you wish you were shorter or taller? I am 6 feet tall and I love it! I have always loved my height. To make it even better, I love to wear heels, the taller the better! My friends hate it when I do, but I married a 6'5" man for a reason!
4. If you could have anyone's (celeb or other) voice as the guide on your GPS, who would it be? I am going to say either Sean Connery or Gerard Butler. Gotta love those accents!!
5. Do you return your shopping cart to the corral or leave it wherever in the parking lot? It depends. I would love to say that I ALWAYS return them, but that would be a lie. If I am not alone or am parked near a corral, I return it. But, if I am by myself with 3 kids and the corral is not right next to me, then I put it in the "median" area of the parking lot in front of my space (if I can). I do not just leave it wherever though. It is just too difficult to try and get 3 kids in the car and then try and find the corral. I do try very hard to park next to the corral though so I can avoid leaving the cart out, even if we have to walk a little farther!
That is me...how are you doing?
Have a great one!
With love,
Theresa