Thank you so much to everyone for all their prayers for my friends. Both are still hanging in there! Jen is actually slowly waking up as I type this! It just goes to show that God is Good and that all these people praying DOES make a difference! Thank you!!
I need to play a little catch up here if you don't mind. This week has been a little chaotic, but I am trying to get back on track!
TAKE IT OFF TUESDAY: This week was NOT so great in the weight loss department! I only lost 2 tenths of a pound! I was REALLY upset about this until I realized a few things. First, that is 2/10ths that I will NEVER see again! Secondly, this has been a MAJORLY stressful week and stress and weight loss do NOT go very well together, plus I tend to stress eat and the kids' animal crackers are KILLING ME! Next, I have started to notice some major definition in my arms which means more muscle and less fat. So, 2/10ths isn't so bad. I can deal with that!
BOOK WORM WEDNESDAY: I do have a book t0 review, but it is the first in a series and I am on the second of the series. There is one more and when I am done with it, I will fill you in on all three. They are actually pretty good!! Hopefully next week, I will be able to review all three of the Fat City Mysteries for you!
FIBER THERAPY THURSDAY: I gave my MIL her hooded scarf yesterday. She seemed to really like it! I am SO glad. I was a little worried! Here is a pic of me wearing it: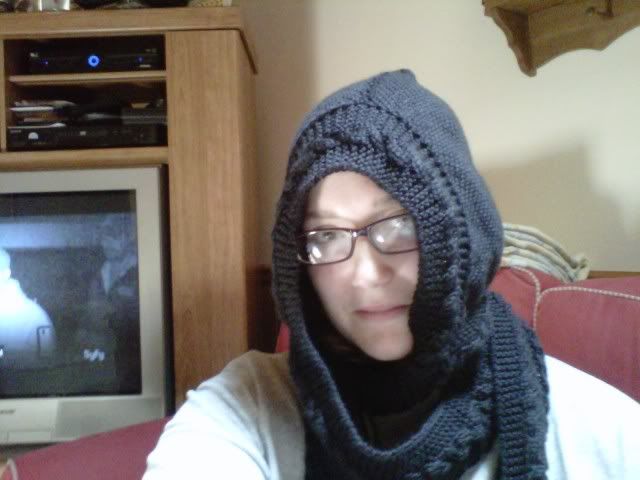 Right now I am working on a couple of things: a baby blanket for J's speech therapist a shawl for me for this wedding we are going to (I only have to weave in the ends and block i though), a scarf for mom, and I am getting ready to start her hat. I'm sure there are more things though, those are just the REALLY current ones!
So, that is it for today! I hope you all have a wonderful day and thanks again for the prayers!
With Love,
Theresa